We pulled up in our driveway, exhausted. Our unplanned trip to my sister-in-law's bedside and subsequent funeral, left our little family emotionally empty. Raw.
Familiar cars  parked in front of our house, vehicles of faithful Mercy House volunteers.  They quietly filled in the gaps our journey left, doing what needed to be done in the storage building next to our home.
As I dropped bags of dirty laundry in the laundry room, I saw bags of groceries on the countertop. Ten minutes home and there was dinner at the front door. The mailbox held condolence cards, the phone, messages.
Neighbors, friends and family, community holding us.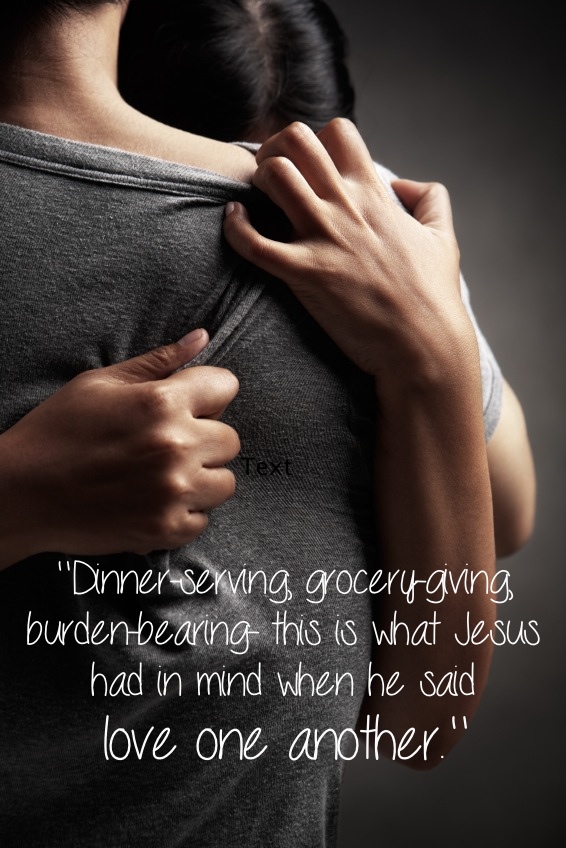 The first Sunday back at church we heard whispers of condolence and knowing looks. Compassion.
I believe this- dinner-serving, grocery-giving, burden-bearing- this is what Jesus had in mind when he said love one another. 
We wonder how to change the world, how to leave a mark, move the hand of God?
We change the world when we simply meet the needs of another. When we love others more than ourselves, not expecting anything in return.
Because no matter the troubled road we journey (and we all walk it at some point) life goes on. Laundry piles up and bellies need to be fed. When we rake the yard of one who can't, we see God. It's love.
"It's best to start small. Give a cool cup of water to someone who is thirsty, for instance. The smallest act of giving or receiving makes you a true disciple." Matt. 10:42
We've been doing a lot of holding in our house. I hold my husband as he grieves his dear sister who died far to young. He holds our children as they try to grasp death and eternity. Our children hold the hand of God with their simple faith.
Our immediate and extended family is held by community.
And it feels just like the arms of God.
Written by Kristen Welch, We are THAT family
Leave a Comment