I first met them last year, while walking the downtown streets of San Juan. We happened upon a small chapel on our way to the El Morro Fort, and really, who could miss the sight of them? Pigeons. Hundreds of them, everywhere.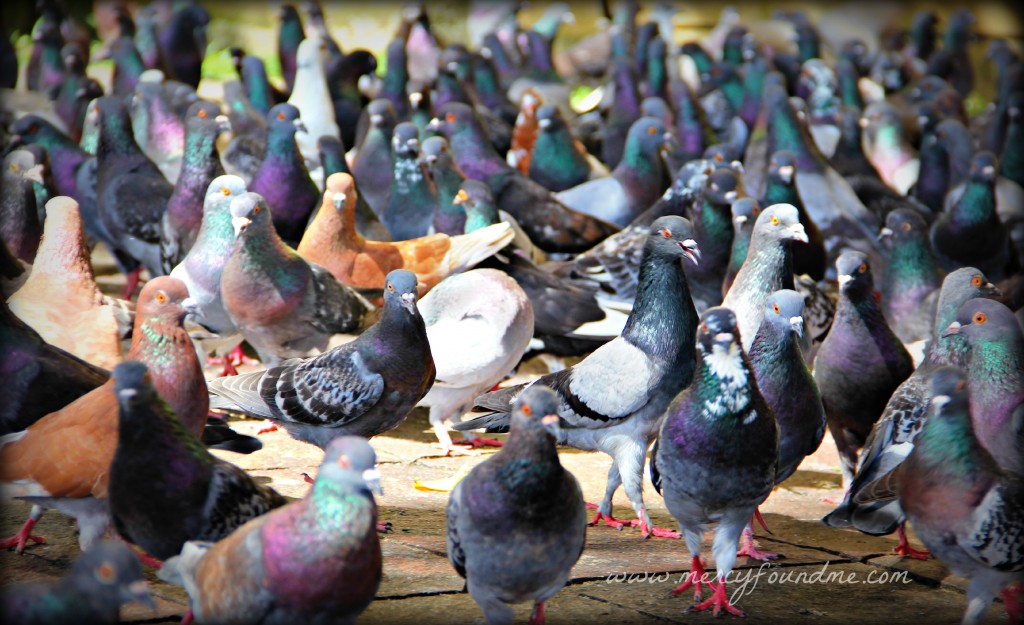 We tiptoed calmly among them, and one step must have been too firm, because dozens of them flew into the sky at once, almost on cue. Don't ask me how they knew which of our steps warranted their unified ascent, but the crazy thing was, they didn't fly away. No sooner had they taken off, they landed right back on the plaza, returning to the exact spot where they began. They were a unified front who flocked together, taking flight periodically and then always returning again. They did this over and over, no matter how many footsteps interrupted them.
This year, we took the kids to meet the Puerto Rican pigeons. We found them in the same plaza where we met before. They landed on the kid's arms, perched themselves on their heads, and dozens tried to eat right out of their hands.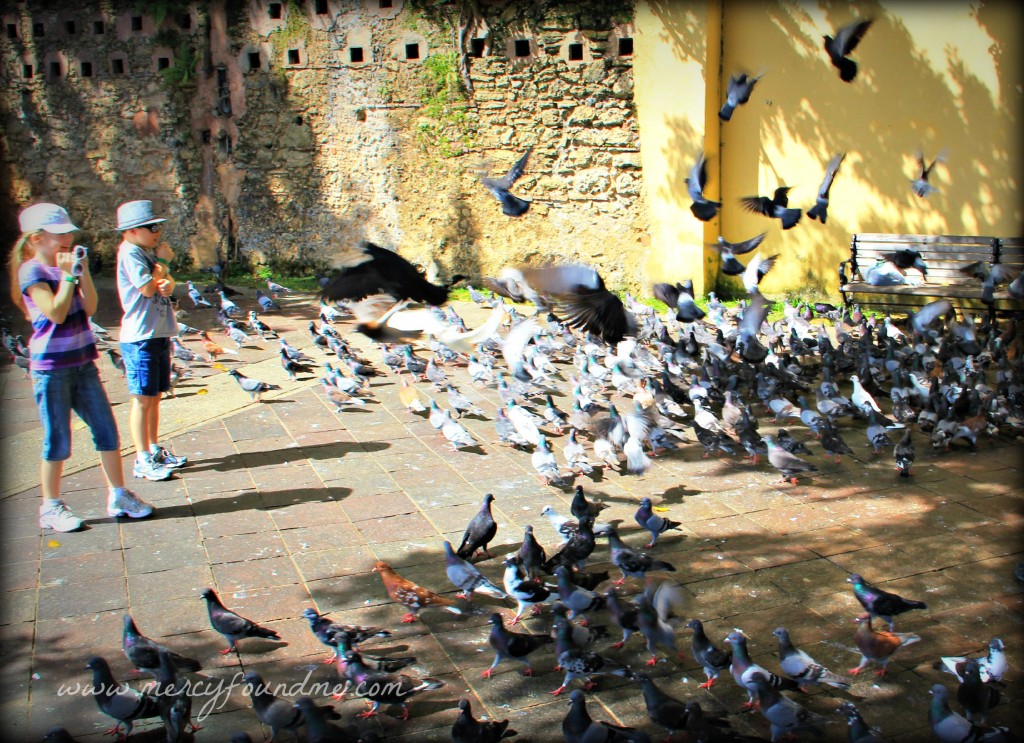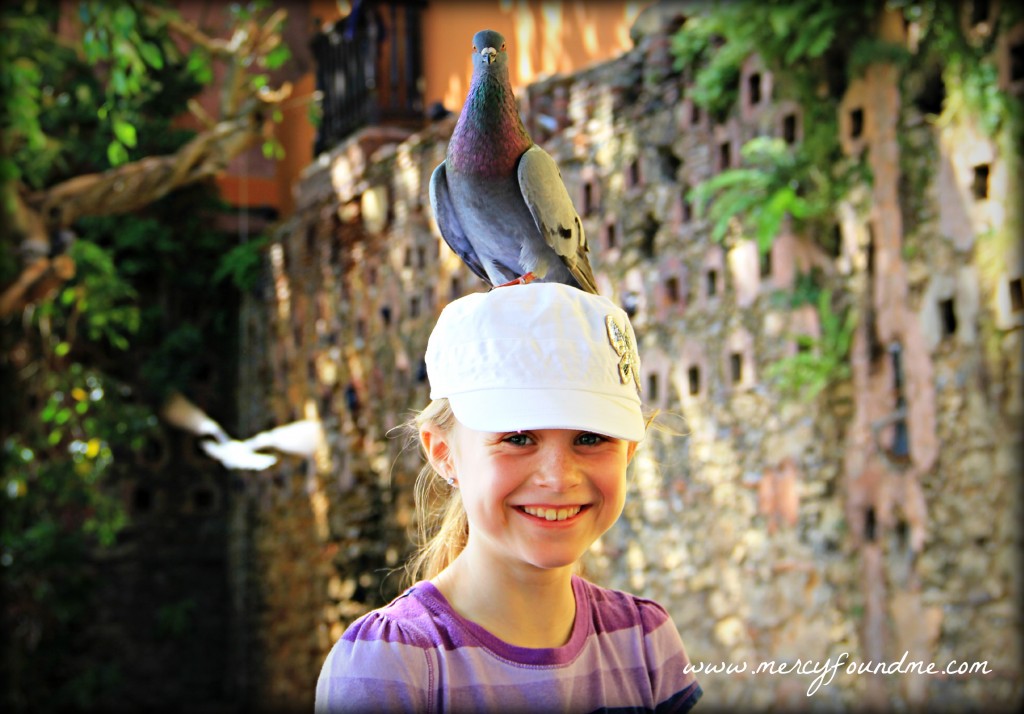 And no matter how many people walked through the plaza, they stayed. This was their community. It is what they knew. The plaza was theirs. The tree was theirs. Even the wall lining the plaza was theirs. They didn't fight and they didn't leave, because this was their home.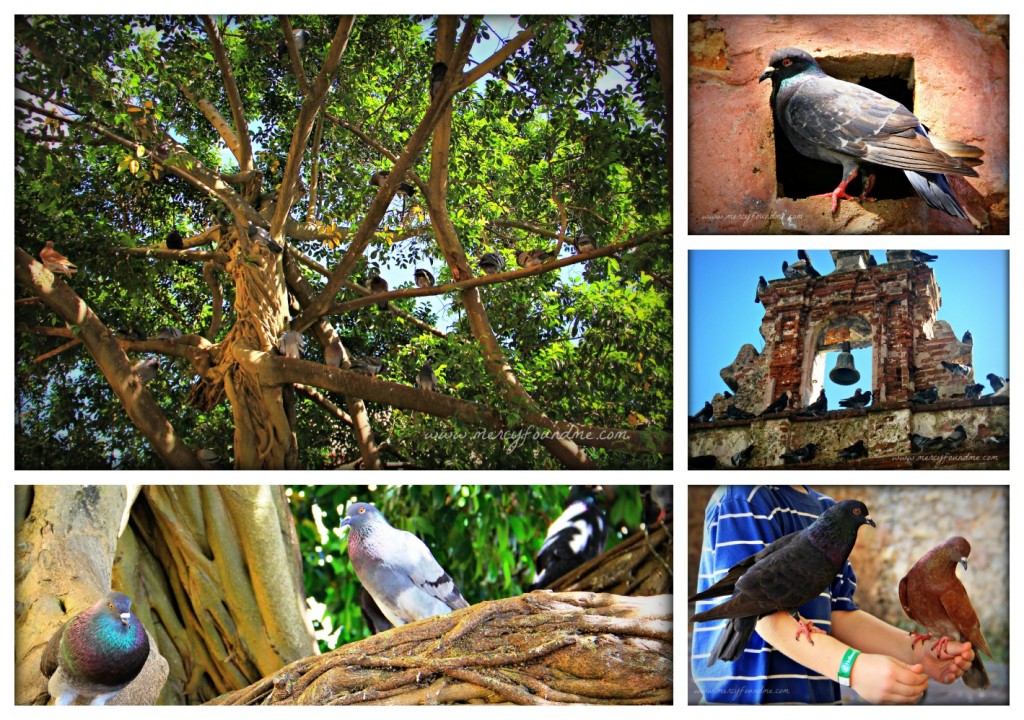 And I'm sure, if we're ever in San Juan again, we'll see them–the community of pigeons known for living in the plaza.
And today, I'm really longing for us all to find community like that.
To find our "people" and hang together.

To fly together when we hear threatening "footsteps" coming,

To stick together and protect one another,

And return again and again to "our place".
Because as women, we tend to be flighty. And sometimes it's just easier to leave the flock–less of a hassle to occupy the same space.
We get threatened when everyone wants to eat out of the same hand, because we forget there's always plenty to go around.
We compare and measure ourselves short, over and over again,
And we decide to quit risking–decide to leave everyone behind, and become isolated and alone.
And the problem is … being alone just won't work.
Because, we need each other.
We need the one who'll signal us all to fly.

We need the one who signals us to return.

We need the one who's perched in the tree,

And the one whose view is from the ground.

We need the big one and the small one,

And the gray-and-white-spotted one…
Because everyone has something unique to offer. And what would community be if there was no diversity at all?
And so today, if you have a community of your own, give thanks for it.
And if you have not yet found your "people", I'm praying you can find them. I'm trusting you'll reach out and take a risk, and find a beautiful community right where you are.
Because just like the Puerto Rican pigeons, we need one another.
Because there are few things as lovely as synchronous teamwork–pulling together and cheering each other on,

Few things as wonderful as giving our strengths, and receiving from others what we lack,

Few things as sacred as protecting, trusting, and caring for another …
Together building a place we're known for.
A place that's ours.
A community where we belong.
Do you have a community to call your own?
What has been your biggest challenge finding or staying in community?
How can we pray for you?
Leave a Comment