tip (noun) \ˈtip\
-a piece of private or secret information
– a useful hint or idea; a basic, practical fact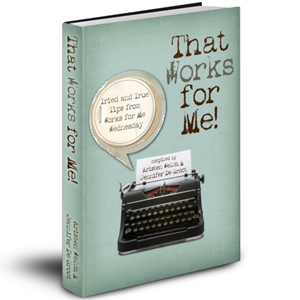 For more than five years, the blog carnival, Works For Me Wednesday has been a hub of helpful tips for every area of a busy woman's life. Hundreds of bloggers link up every week and thousands of tips have been shared over the past years.
This e-book offers a categorized, organized place for hundreds of practical, "aha!" tips to make your life run smoother. That Works For Me! is a celebration of the WFMW community, with tips from hundreds of different blogs.
It won't organize your linen closets or remove stains, but this e-book will offer you a good place to start. We've searched and compiled and created an organized e-book with 24 popular categories, featuring the best of tips in each group.
You want to know how to take care of makeup brushes? Curious how to make a scarf wreath? How about how to plant grass over concrete? This is the book for you. I love the Internet because it truly is the world's hive mind; the ultimate chat-over-the-fence-with-your-neighbor neighborhood. And this book has compiled the best of the best tips in one place! I love that, and I love that it supports an amazing ministry. Every household could use this book. It's worth every penny.

-Tsh Oxenreider, blogger behind SimpleMom.net and author of One Bite at a Time: 52 Projects for Making Life Simpler
Kristen Welch, We are That Family
Leave a Comment