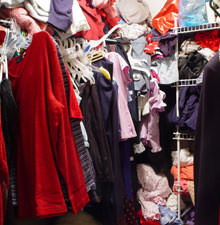 I am an admitted pack rat. My closets were full from top to bottom with stuff and more stuff. Boxes of days gone by, thirty two pairs of shoes, clothes that didn't fit, clothes that weren't mine, DVD's and a pair of boxing gloves. It had to be cleaned out so I went to work. All in all I got rid of 8 large trash bags of assorted stuff and 8 trash bags of clothes.
pictures of his beloved children and grandchildren…
I put my mom's small safe away but forgot where I put it. Found it in the closet! Hubby broke the lock for lack of a key and inside was birth certificates, other papers and the contents of my dad's wallet. Inside were his driver's license, social security card and pictures of his beloved children and grandchildren.
Strange enough there was a Big Green Egg business card. You'd have to know my dad to understand this card. He loved to cook, and grill and the Big Green Egg was his pride and joy. He could grill, or slow cook any meat of any species he wanted to on this thing. I suppose he kept the card just in case he ran into a problem.
My shoe collection was larger than I thought. Thirty two pairs of shoes which include, boots, heels both toe in and toe out, slip ons, flip flops, sandals, tennis shoes and a pair of pink slippers. These feet are ready for anything this Georgia weather can throw at them.
Books, books and more books! I already have a library in my home, now I have enough for two. The best, most unselfish thing to do would be to donate some of my books to the county library. But will I do it? Dunno
God revealed something to me today about closet cleaning and my heart.
I pack and save this stuff because most of it has meaning. When I let go of it I feel as though I am getting rid of a part of my life. However it's a cleaning process that needs to be done. I do feel good when I can see the bottom. I have room to breathe. I need to breathe. All the "stuff" suffocates me. Holds me back. When I finally bag it up I'm free to walk in and out of my closet to see everything clearly.
Sometimes I don't even know who I am.
Life is like that too. I stuff myself full of pain and hurt, anger and fear then keep it bottled up till I'm about to burst. It's ugly when I burst. There's no room for anyone, not even God, and abundant life here on earth is out the door. (John 10:10) Relationships and life abundant are buried under my clutter. Sometimes I don't even know who I am.
But when I take off my masks, and clean out my heart of the clutter by releasing it, I can find space to breathe. Jesus is my Space Giver. He takes the boxes, and clutter and frees me from the junk in my soul.
My Space Giver I love You and thank You that I am free because You take the burdens of my heart and let me breathe again.
Matthew 11:28 -30 Come to Me, all who are weary and heavy-laden, and I will give you rest. 29 Take My yoke upon you and learn from Me, for I am gentle and humble in heart, and YOU WILL FIND REST FOR YOUR SOULS. 30 For My yoke is easy and My burden is light."
Julie Moore
Grace Full Women
Leave a Comment