It was the first sunny day in weeks. I handed my kids a new box of sidewalk chalk and pointed them towards the backyard. Go play! I knew the weather would be good for them and I knew the moment of quiet would be good for me.
I checked on them and I laughed at the splash of chalk coloring every surface of the backyard. I guess I should have emphasized sidewalk.
And then I saw these words scratched out in child script across the swing set fort: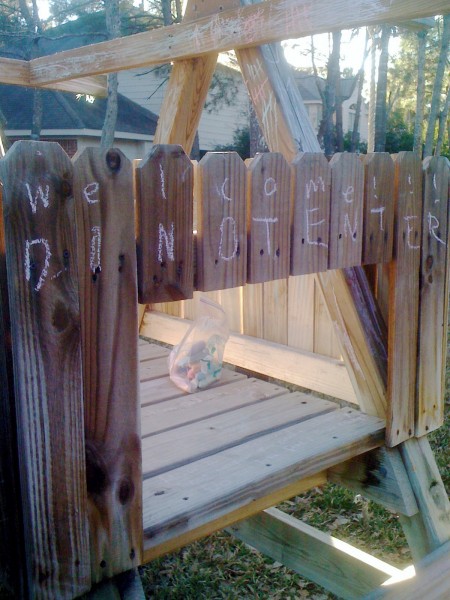 I froze.
At first I laughed off the contradiction: Welcome! next to Do Not Enter!
But they felt like a lead balloon, heavy words, sinking feeling.
I thought of my own words, the ones that don't match my heart.
I'm fine.
Doing great!
Yes, things are wonderful.
My words that are a reaction to the question, not an answer.
I paste the smile and look away, knowing it's not reflected in my eyes.
I don't answer the question How are you? because I've convinced myself the person asking doesn't really want to hear that I feel isolated in my journey, overwhelmed in the task, scared of the unknown, struggling with the calling.
And so I say Welcome! but Do Not Enter!
It's a risk to put it out there, to take down the mask and reveal your heart. What if the friend is just being courteous, what if you over share or create an awkward moment.
Or worse, what if they don't really care….
But I believe those are lies that keep us silent, that crush our spirit and cause us to suffer alone.
And let's be honest, not every person who asks how are you, really? is prepared for your answer. I know that sometimes I ask it and don't take time to listen to the answer.
People are people, we're all imperfect and hiding a bit of our own pain.
When your words stick in your throat and don't reflect your heart:
Take a risk
Remove the mask
Share your heart
Listen and be listened to
But most importantly, find a place with Jesus. He looks past our  hollow responses and isn't afraid of our pain.
He already knows it.
When He asks How are you, daughter?, He really wants to know. He already has the answer.
He is the friend that sticks closer than a sister and the only one who can give us the courage to make our words a true reflection of our heart.
by Kristen Welch, We are THAT family
Leave a Comment