This astounding body that God made has grown from a nine-pound newborn to an adult woman, wife, and mother.
This growing body that God blessed me with has played in treehouses, scrambled up rocky, limb-bound mountain paths, and climbed on to a strong horse's back.  It has sat in solid, uncomfortable school desks for days, years, aching for the chance to run outside and then returned to those desks as a teacher and perpetual student.
This persevering body that God presented me with has endured taunts and criticisms from my own mouth as I struggled through middle school and high school, unsure, insecure, and under comparison.
This strong body that God entrusted to me has learned to run miles at time (and enjoy it!), swim in the calm, chlorinated water of a pool or the rough, wild waves of an ocean, and bike down many roads and bumpy paths.
This unbelievable body that God graced me with bore my beautiful child through nine months of rapid growth, then birthed him naturally, enduring three hours of pushing, straining, and exertion.  And yet it still returned to (mostly) normal function within a matter of days.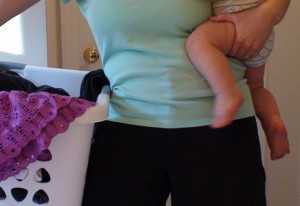 This purposeful body God granted me can carry a baby on its hip and balance a cumbersome load of laundry while hiking up a flight of stairs.  Through God's provision, it can still muster enough strength and energy to rock a weary child back to sleep in the middle of the night.
This enduring body God assigned to me continues to work, to play, and to thrive…
And the craziest part about this body?  God made this body just as it is and specifically for me.  For me to use. To bless others with.  To take care of.
"Do you not know that your body is a temple of the Holy Spirit, who is in you, whom you have received from God? You are not your own; you were bought at a price. Therefore honor God with your body." – 1 Corinthians 6:19-20 (NIV)
To praise and honor God with.
By Caroline Flory, Under God's Mighty Hand
Leave a Comment