Peering out my window at the beautifully falling snow and listening to the reports of area closings, my ears perk up at the latest news update:  shelters are packed for the evening and the plea for more blankets is put forth. Needs are vast and many are oblivious.
Often, these days immediately following Christmas may be filled with unexpected financial stress as credit card statement arrive, budgets are re-evaluated and damages discovered, yet this is a prime time to take advantage of "After Christmas" sales to enable us to give more generously to those in need. It may be as simple as returning a few of those impulse buys that were purchased at the last minute and using that gift exchange to stock up on items that would be perfect to share with a less fortunate family.
Last winter, I shared about our family's desire to help the homeless by putting together care packages to meet some of their basic needs. One can go a step further and gather up seasonal items like winter gloves, boots and jackets that will be slashed to pennies on the dollar after the New Year, or you can create some Blessing Baskets to keep ready year round. With a tangeable basket it encourages a raised sensitivity to those in need, not just at the holiday times, when charitable giving heightens, but all year round.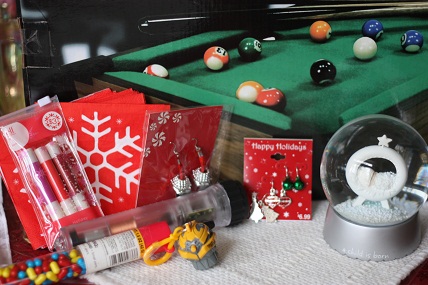 As our children age, it's a continuous struggle for our family to counter the subtle materialism that creeps into our home. Typically, Christmas time offers an excellent litmus test to access this aspect of character development, not only in our children, but mom and dad as well. By giving generously, even when it doesn't always go hand in hand with our present attitude, it slowly melts the selfishness that has begun to take hold.
For the past few years our family has delivered holiday meals, as well as gifts and pantry items to refugee families for Christmas. December 26 marks the day that I stock up on many Christmas items to be used in their gift basket for the following year. Without breaking the bank, I can help open up the eyes of my children to the true needs of the community and attempt to nurture an "others first" mentality which has become increasingly difficult during this season where marketers push "more, more, more." When two of our children mentioned, "Wow, we're giving more to him than we're getting," I knew it was the beginning of modeling exactly what we desire our home to encompass. It doesn't always happen, but it's a start.
By pairing coupons with " loss leader" grocery store sales and giving additional food that I have accumulated purposely to share with families, I put "need vs. want" into perspective for our children. Even during our year of unemployment when we were giving more intangeable gifts of our time than those of our resources, I was able to share foods and toiletries that I "purchased" for nearly free with coupons. After Christmas, I also buy some fun gift items such as earrings, stuffed animals, and toys packaged in holiday boxes that must be marked down as well. Holiday paper products prices are also slashed and I include those in their basket when we deliver the meal. I love leaving their meals and/or cookies and pie on glass Christmas dishes they can keep and use again since I know those are items they would never spend on themselves. Again, something I look for during the After Christmas sales.
Now, please don't get me wrong. My shopping trek produces plenty of deals for myself as well. I stock up ornaments so that I can decorate on a dime, buy flannel sheets for the kids, shop for most of my stocking stuffers for the following year, and buy 50% off Hershey's candy, so it's definitely not all spiritual. I guess I just love how the Lord has allowed my love for deals, couponing and frugal living to express itself in ways that can minister to others in tangeable ways.
As you scour the sales aisle this week, will you join me in adding a few things to your cart for others? It's been wonderful to learn, even amidst my doubts, that I can never out give God. He always provides above and beyond.
Leave a Comment