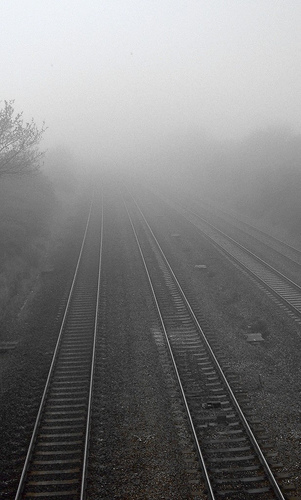 I'll just come out and confess. I'm one of those annoying planner, pragmatic types. The control freak center of my brain? Yep, that's where dreams go to die.
Fifteen years ago, I married one of those spontaneous dreamer types. It's true that opposites attract. It's also true that opposites drive each other completely bonkers. I don't know what he was thinking when he signed up for a lifetime with me. After six years of dating, he had ample exposure to my planning-induced neurosis. It's a wonder he didn't take his dreams and run for the hills.
At several points over the course of married life, I made plans. Good ones. I came up with very practical ideas about how we could act justly and love mercy and walk humbly with our God in a very predictable and controlled environment. But would you believe it? God never took any of my ideas. Not even the absolutely perfect ones.
I planned to work in foreign missions, but ended up working for more than a decade as a corporate HR executive. (Think Catbert.)
My husband planned to go to physician assistant school in the military. Instead, he went to medical school, out of the military.
We planned to wait to have children until after med school. Our son was born right before my husband started third year.
Oh and there was this minor detour to Afghanistan smack in the middle of med school. Apparently, the air force didn't consider my 10-year plan when they cut my husband's stop-loss orders.
Are you sensing a pattern here?
My husband seemed to take the rerouting in stride, kept reminding me how it's about the journey, the process, the pursuit. Blah-bitty-blah-blah. I knew he was right, but I held on to the belief that the journey would be a whole lot more comfortable for me if I knew exactly where we were going to end up, ahead of time. You know, like when you have a plan.
A year ago, standing on the precipice of 2010, I leaned on the kitchen counter, staring at my coffee maker like the coffee was going to make itself. I wondered where the grinder would sit this time next year, what life and my kitchen would look like. I felt as if I'd been swallowed whole by the fear of the unknown.
So there I was in the belly of fear, so weary of never knowing what's next–or even worse–of thinking I knew and having it change repeatedly. Like one of those speed sensors flashing numbers and veiled threats to drivers who pass. You're going 42, no 38, no 41, no make that 25. I just wanted life to stop blinking a dozen different speeds.
I filled the carafe with water and hit repeat on the same prayer I'd stammered out every day for the past month. God, I'm afraid, and all this limbo makes me nuts. Make me brave, even enthusiastic. Could I trade my anxiety for your joy? Guide us where you want us to be, and then help me get so excited about it that doubt never even shows up. Please.
A few days later I woke up awash in enthusiasm for a plan so crazy and difficult that I knew it must be of God. And when my husband felt the same way, well, let's just say doubt didn't even bother to make an appearance. Since then, we've taken a thousand baby steps in that direction, waiting for God to bring it all together. And do you know what?
A year later, we're still waiting.
This year we moved six states and more than 700 miles away. He changed jobs, and I left mine altogether. I left my dream house to rent a decidedly less dreamy house. (Case in point–the carpet underneath my feet right now is green with pink flowers and vaguely reminiscent of a Forenza skirt I used to love. Emphasis on used to.)
The list of changes is long.
The list of constants is short.
But this December, as I stand on the precipice of yet another year, still in limbo, the truth is finally starting to sink in. If the only constant in my life is a gracious and powerful God, it will be enough. He is enough.
I love the definition of faith the writer of Hebrews offers at the beginning of chapter 11. (Actually, the planner in me finds this definition highly irritating, but the rest of me loves it.) "Now faith is the confidence in what we hope for and assurance about what we don't see."
And then later, when the author starts listing examples of what faith looks like, he writes, "By faith, Abraham, when called to go a place he would later receive as his inheritance, obeyed and went, even though he did not know where he was going." (emphasis mine)
I kind of wish it said, "By careful planning and meticulous calculations based on the multitude of information God provided ahead of time, Abraham obeyed and went, because he knew exactly where he was going." But the thing about faith is that it usually comes into play when life is so foggy I can't see my hand in front of my face, when no amount of planning can save me.
Tomorrow marks the dawn of a new year and promises more change. I have no idea where I'm going. But I know Who is taking me there. And plan or no plan, that's enough.
He is enough.
Raise your hand if you've been there–in the fog–where plans fail and faith is the only alternative. Raise your hand if you're there right now. I'm in too much of a fog to see my own hand right now, let alone yours, but I'm guessing there are a bunch of raised hands.
What plans do you need to hand over to Him today? What circumstances do you need to trust Him in?
Leave a Comment