After a rough season in full-time ministry with a baby and toddler in tow, a budget stretched beyond it's capabilities and a fog of depression, I remember the moment I said these words to my weary husband: "I used to want to change the world, now I just want to survive it."
My husband looked as if I'd slapped him. I wasn't trying to hurt him, but hurting people, hurt people. I was in survival mode. I looked at my life and felt unsuccessful.
Somewhere along the way, I'd forgotten how to dream. I forgot that changing the world doesn't happen with success by the world's definition, it happens with each good choice we make. It's one decision that affects someone else positively and causes a ripple effect.
I want my children to believe that they can change the world! I want to believe it!' Little by little, I started believing in myself again.
"…little things can make a big difference… Every action you take, even small things, can change the world."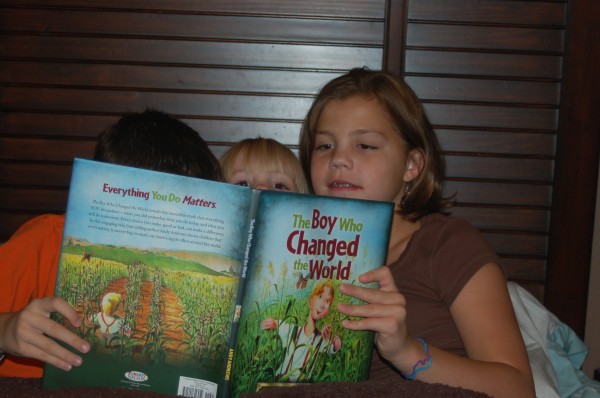 The other night, we snuggled up under the covers and read "The Boy Who Changed the World," by Andy Andrews.
The first time I read it alone, I knew this was a book for my family. The second time I read it to my kids, I cried.
"…God made you to make a difference…" It's my favorite kind of children's book: it's based on a true story, the pictures are vibrant and beautiful, and it leaves the reader (kids and adults) with a outstanding challenge: anyone can change the world, especially you.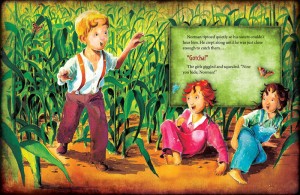 "Every little thing you do matters: what you did yesterday, what you do today, and what you do tomorrow. God made your life so important that every move you make, every action you take, matters…and not only for you or the people around you. Everything you do matters for everyone and for all time!"
I love the book and I know you will too. Today, we are giving away FIVE copies of this lovely book here at (in)courage. To be entered, would you leave a comment telling a good choice you made and who it affected?
(This book was provided to my family for review by Tommy Nelson and it will live among our favorites).
by Kristen, We are THAT family

Leave a Comment