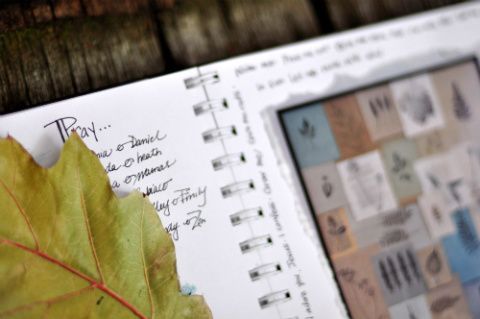 When I'm over the cereal bowl, reaming off all this day is going to bulge at the seams with, he offers me a scratch pad and says it quiet, "Here, just make a list for your day" — and I'm the one looking blanker than an empty page.
 Bits of my brain with its to-do lists, long lines of my soul written around menu plans and pieces of my heart, just scratched down on scrap paper? The things I'm trying to remember, the list of food I'll cook tomorrow in the kitchen, the letters I need to write next week, just open a vein and let my life dribble out across bland, uninspiring paper?
 I grip the ballpoint tight over recycled fiber but I can't bring myself to it. It's not my constitution to lay my life down unframed. 
"Maybe I lay out some more pages first in my journal? And then I'll write down all these tasks jockeying around in my head." I lie down the pen and he smiles kind. 
For me, life is art and these lists and notes and child quotes and reminders and words, this is our quotidian poetry, the daily symphony, the everyday masterpieces.
The art of our lives deserve a frame.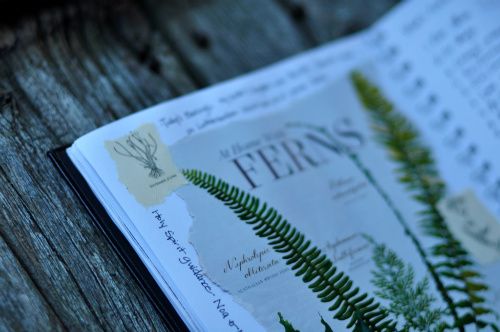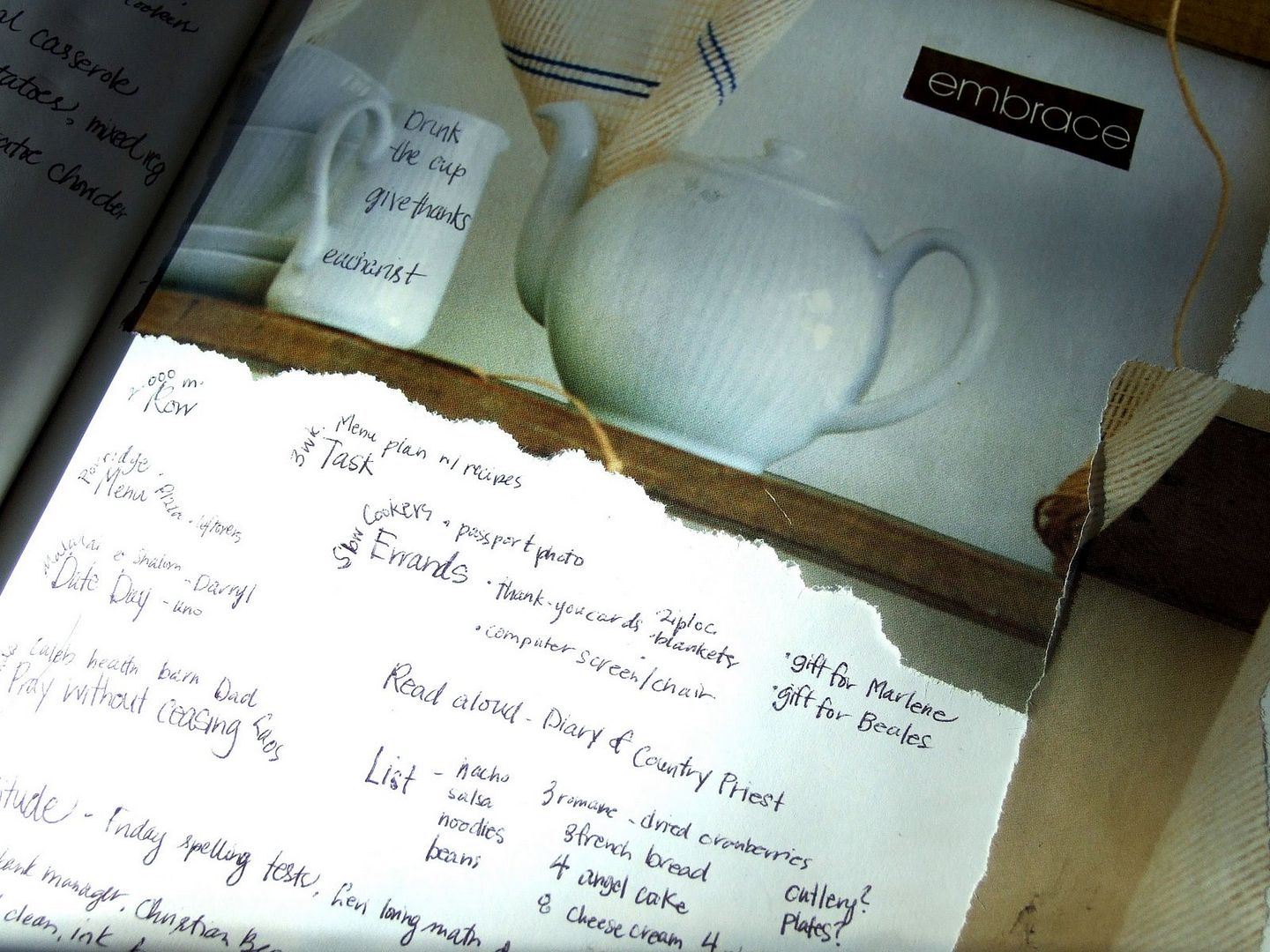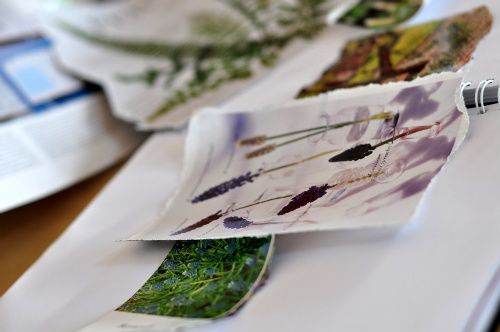 I thumb thrifted magazines, yellowed library discards, old postcards.
I lay out collages on two page spreads, frame bits of beauty around the white space left for the day chronicling and I glue down five spreads — enough frames for a week of time. And I think of how'd my Grandma Ruth would have shook her head and just whipped out a used envelope, the front with its smeared postage mark and curled stamp edge, the side tore open. And she would have laid her scrolling Edwardian script all across the perfectly good back of that envelope: Pick up at the Met: bananas, oil of olay face cream, pantyhose, tic-tac breath mints, call Irene McBride about the shower at the hall, go for a walk, take the empty milk bags over to Roger's. 
Every woman beautifully has her own unique constitution. 
Grandma would have thrown that envelope straight in the garbage just before she turned the last light out for the day.
She never sent any of those envelope lists into the future. 
What if she had made a journal frame of her ordinary days? Had left to her grandchildren the treasure of her life's art in a bound book of her lists? What she made for dinner in mid-February 1967, her daily counting of blessings, what she prayed for through the decades and children and stack of bills. 
I smooth out my last journal page, lay my last collage frame down, and I am ready now to make my list for the day. 
Because these tasks, these menu plans, our notes to ourselves, our to-dolists, these moments make our lives: each one is momentous. And if each moment lived is important, then why not make a ceremony of even the simple, write down the lists with a flourish, celebrate the tasks of the day by framing them in journal beauty? 
He finds me mid morning, jotting down lists in my Celebrating Today journal.
 … a list of "feathers to pluck for my nest"… errands, menus, tasks, funny children remarks, things to remember… and the place where I keep a running list of daily gifts from His hand…
"Crazy, huh? That I need to make a beauty space before I can write down the day's work?" 
He winks. "Whatever works." 
Beauty inspires me to live beautifully and when the Master transforms a life into art with the brushstrokes of grace, I am willing to go find a frame. 
On my page framed with beauty bits, I write down the next thing on my to-do list.
Celebrate Now.
I smile. I do.
Be inspired: 
A Tutorial to Make Your Own Visual Journal

Capturing the beauty of your life on visual journal pages

Live a Celebrated Life: The Beauty of Ceremony
The Whole Series: Journaling as a Spiritual Discipline
Q
4 U:  How do you manage your to-do lists? 
How do you make your life art? Do you journal? Tell us about you!
by Ann Voskamp, A Holy Experience
* Also read below to find out how journaling became a spiritual journey for Sarah Young (and enter to win her beautiful books).
Leave a Comment