We all want and need wisdom, but how do we get it?
When we're in a relationship with a toxic person and need boundaries, when our churches are divided by theological differences, when we don't know how to navigate unexpected difficulties, knowing what the right, good, or wise thing to do is difficult. So where do we begin?
It would be easier if wisdom were formulaic and we could follow a set of rules to fix every tricky situation. But the wisdom we need is the kind that comes from God.
Meet Create in Me a Heart of Wisdom, the (in)courage Bible study from DaySpring, written by Grace P. Cho and featuring stories from your favorite (in)courage writers. Scroll down for details + a FREE full week and online study from Create in Me a Heart of Wisdom! Order your copy today at:
And add to your 'want to read' shelf on Goodreads!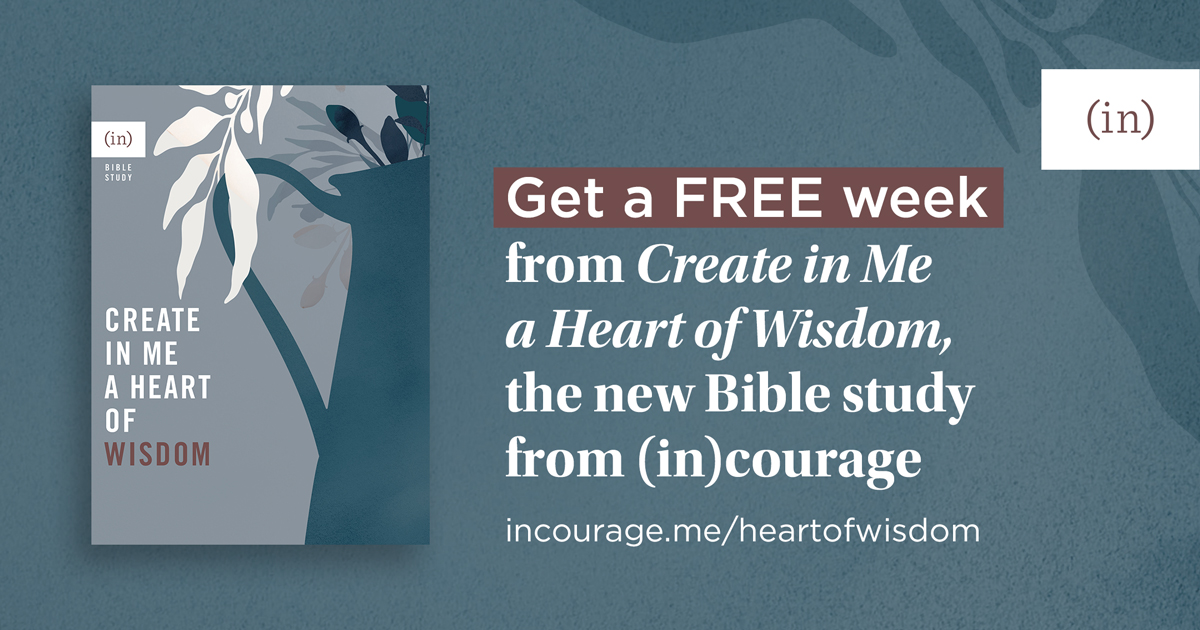 Let's seek a heart of wisdom — together.
Sign up for an Online Bible Study through Create in Me a Heart of Wisdom and get a FREE week from Heart of Wisdom + printable Scripture memory cards! We'll email you each week with everything you need to go through the study at your own pace including reading assignments, memory verse lock screens, teaching videos from author Grace P. Cho, reflection questions, and more.
Missed any of the videos? Watch them all here.
Get your FREE gifts!
THANK YOU.
Your first email is on the way.
* PLEASE ENTER A VALID EMAIL ADDRESS
Signing up will get you the free gifts + online study and occasional emails from (in)courage. You can opt out at any time.

Create in Me a Heart of Wisdom begins by asking, what is wisdom?
Create in Me a Heart of Wisdom teaches that wisdom is learned by understanding knowledge, listening to the Holy Spirit, experiencing struggle, being in community, and practicing what we learn over a lifetime. It won't offer solutions to specific problems, but it will offer spiritual insight and practical guided questions throughout the study to help you seek God and gain the wisdom you need.
Create in Me a Heart of Hope is a six-week Bible study packed with relevant observations, applications, daily prayers, and Scripture memorization. Perfect for individuals or small groups, this study will help you:
discover the wisdom that is available to you no matter what circumstance you're in,
learn how to live wisely with the help of the Holy Spirit, through your community, and with practice,
experience the beginning of a thriving life when you choose God's wisdom over human wisdom.
The wisdom of God is accessible to us all, and the first step is to ask God for it.
Looking at where that wisdom comes from and what it looks like in our lives will help us understand what wisdom is and the difference it can make. It will allow God to create in us a heart of wisdom.
Create in Me a Heart of Wisdom is now available wherever books are sold — order your copy today! And learn more about the other Create in Me a Heart of… Bible studies!