Looking for hope? We've got some for you.
Perhaps you're facing circumstances you were never prepared for or even imagined. Maybe you're looking for any hint of encouragement, any inkling that this–whatever your this might be–won't last forever or destroy you. Maybe you're afraid to hope, or perhaps you're not even sure what hope is.
We get it.
Introducing Create in Me a Heart of Hope, an (in)courage Bible study from DaySpring, written by Mary Carver and featuring stories from your favorite (in)courage writers. Scroll down for details + a FREE full week from Create in Me a Heart of Hope! Order your copy today at:
And add to your 'want to read' shelf on Goodreads!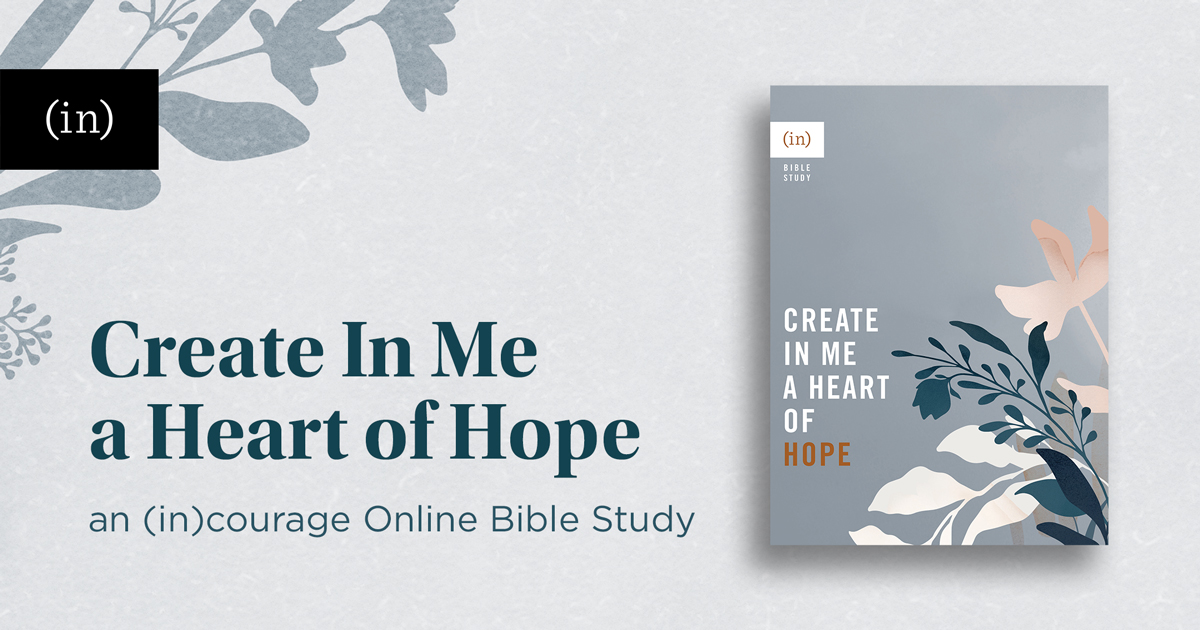 Let's seek a heart of hope — together. Sign up for an Online Bible Study through Create in Me a Heart of Hope and get a FREE week from Heart of Hope + printable Scripture memory cards! We'll send you an email each week for six weeks with everything you need to go through the study at your own pace.
Missed any of the videos? See them all here.
Get your FREE gifts!
THANK YOU.
Your first email is on the way.
* PLEASE ENTER A VALID EMAIL ADDRESS
Signing up will get you the free week + Scripture cards and occasional emails from (in)courage. You can opt out at any time.

Create in Me a Heart of Hope begins by asking what is hope?
Is it merely wishing for something good to happen? Or crossing our fingers and doing our best to will into existence the outcome we desire? Or is it the security we feel when our bank account reaches a certain number, our children get into a certain school, or we finally get that promotion at work?
Those are certainly some of the many places the world finds what it calls hope. But not one of them is lasting; not one of them will change your heart and your life. On the other hand, Biblical hope is faithful, indestructible, life-changing, and a gift from a loving, powerful God.
Create in Me a Heart of Hope looks at how God offers us hope—real, certain, unshakable hope.
Whether you're new to faith or a lifelong Christ follower, holding onto hope can be hard. Create in Me a Heart of Hope is a six-week Bible study packed with relevant observations and applications, as well as daily prayers and Scripture memorization. Perfect for individuals or small groups, this study will help you:
learn where hope comes from and the difference it can make in your life
cling to God's truth and assurance when you're waiting or overwhelmed, when you've been hurt, or when you feel trapped
begin living with confidence as you firmly grasp the hope God is offering.
Whatever you're facing, God's unshakable hope can meet you there.
Looking at where that hope comes from and what it looks like in our lives will help us understand what hope is and what difference it makes. It will allow God to create in us a heart of hope.
Create in Me a Heart of Hope is now available wherever books are sold. Order your copy today!