"I don't do downtime very well." How often have I thought or spoken these words? Although I know it's important, I often have trouble embracing my need for rest. I pressure myself to check items off a never-ending to-do list and allow myself to believe the lie that rest equates to laziness.
The news continues to bring me anxiety and sorrow, on top of my family's own unique struggles. Lately, however, I've realized rest can help me cope with stresses, both slight and substantial.
In Matthew 11:28, Jesus tells us, "Come to me, all of you who are weary and burdened, and I will give you rest." Rest is a gift He offers to the weary. I'm welcoming it into my life in three key areas to bring rest to my body, spirit, and soul.
First, I'm embracing rest for my body by delighting in God's creation. My parents loved plants, and I remember their favorite nursery and the fascination of walking through its warm, humid greenhouses as a child. Our home was filled with the beauty of God's creation — from the rosy red geraniums my mother added to our window boxes each spring to the majestic ponytail palm in our front window, to the graceful weeping willow that stood in the back of our yard.
This past spring I delighted in the way the plants and trees in the yard of our new home awakened — flowering pear, cherry, and dogwood trees, hardy lavender, creeping succulents, and a beautiful Japanese red maple.
I pull out old, worn field guides, join online plant identification groups, and text photos to my plant-savvy oldest son, searching for answers to my questions: Are these budding bushes rhododendron or azaleas? What are the dozens of new shoots pushing up through the soil around our deck? Is this straggly little Charlie Brown tree actually something special?
For years I believed I could write about and photograph plants but not grow them. I joked about how I couldn't keep plants alive. Inspired by the Spring chapter in Myquillyn Smith's book Welcome Home and the way my oldest daughter found comfort through tending plants while isolating in 2020, I'm filling our home and yard with new life: trailing ivy, shade-loving hostas, fragrant rosemary, vibrant purple hydrangeas, an eye-catching variety commonly called a hope plant, and a quirky little ponytail palm that reminds me of home. I've cataloged them in an app that tells me where to place them and when to water them. I don't want to kill my plants from either too much or too little love.
Appreciating and tending to God's creation requires me to slow down and engage my senses of sight, smell, and touch. This is rest for my body.
Second, I'm embracing rest for my spirit through reading. I used to end every day with at least thirty minutes of quiet time with a book; it was the perfect wind-down to my day. Over the years, I'm sad to say I've allowed catching up on email and social media accounts to edge out that special time.
At the beginning of the pandemic, I bought my first Kindle. It's one of my favorite COVID purchases. Most nights I prop extra pillows behind me in bed and escape into occupied France during WWII, slip into the heart of the Russian Revolution, sleuth along with the detective in a whodunit, or enjoy an occasional romantic comedy.
I pair my Bible study and devotional time with breakfast, so I bookend my day with the written word. I believe reading builds empathy, and we all could use more of that. Through reading, I'm finding rest for my spirit.
Last, I'm embracing rest for my soul as I pray and release. I used to say yes too often — until I was buried by all the tasks I'd agreed to perform. When I learned to delegate, it allowed me to release responsibilities I didn't need to carry and invited others to share the burden with me.
Worries will weigh you down, but prayer will provide life-changing peace if you unshackle your troubles and hand them over to God. Then trust Him to handle the outcome. Pray and release: This is rest for our souls.
As Philippians 4:6-7 says, "Don't worry about anything, but in everything, through prayer and petition with thanksgiving, present your requests to God. And the peace of God, which surpasses all understanding, will guard your hearts and minds in Christ Jesus."
This article was written by Dawn Camp as featured in Everyday Faith Magazine.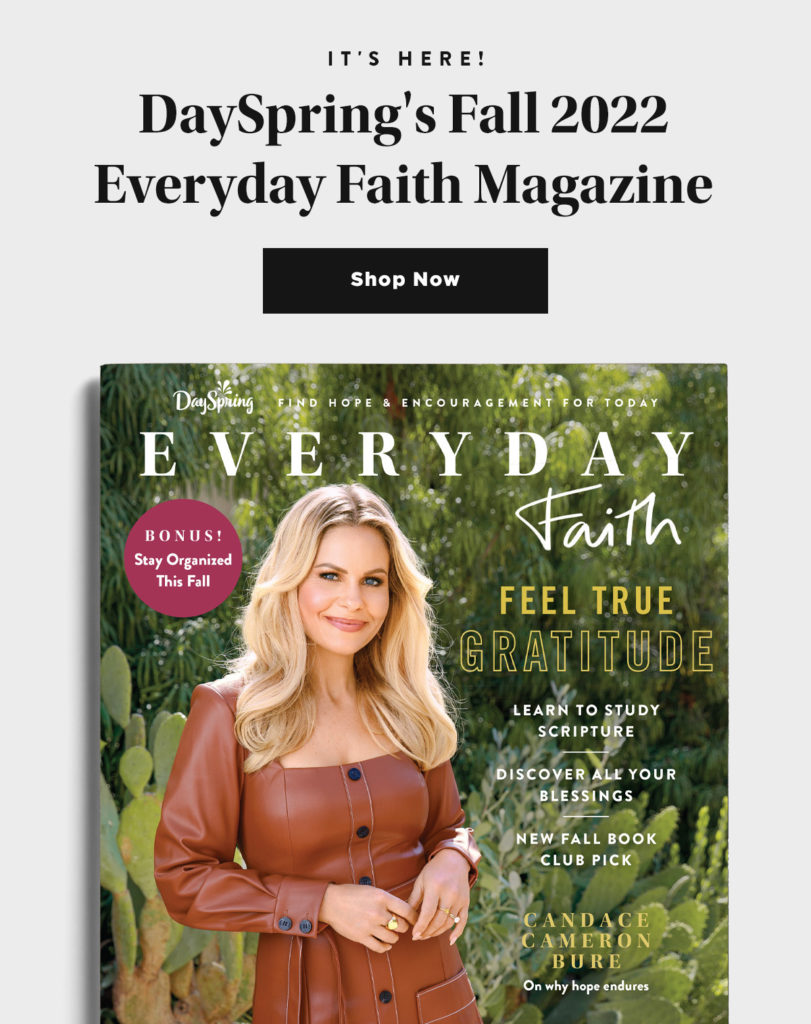 Did you know DaySpring has a magazine? It's true! And the brand new fall issue of Everyday Faith just hit newsstands!
From cover to cover, you will find stories and articles to inspire hope, prompt reflection, and encourage you for the upcoming months. There are tear-out prayers to share cards, scannable QR codes for freebies, and exclusive Fall Planning Calendars tucked inside!
These pages are full of the best kind of hope and encouragement — truth from God's Word!
You care about your faith — that's why you're here today! — and Everyday Faith magazine will help you know and share God's love in fresh, true, and inspiring ways. Pick up your copy wherever magazines are sold and at DaySpring.com. This article by Dawn is just one of many featured throughout Everyday Faith magazine, which, by the way, is perfect for tucking into your purse, bringing to the school pickup line, and sharing with a friend.
And to help you do just that, we're giving away FIVE sets of magazines — one for each winner and one for them to give to a friend! Leave a comment telling us whom you'd gift a copy to and we'll draw five winners.
Giveaway open to US addresses only, and will close on 9/9/22 at 11:59pm central. 
Listen to today's article below or wherever you stream podcasts!
Leave a Comment