I'm good at swallowing grief. I eat my own and the grief of those around me. Some days, it gets shoved down my throat faster than I can take it. Mass shootings. Unresolved hurt in relationships. The pain of leaving church and losing community. Parenting blow-ups and intergenerational trauma. Policing and silencing of voices online. The endless, messy internal work of healing. The loss of able and healthy bodies. It piles up, layer by complicated layer, and the rage, the anguish, the tears get stuck right in the deepest center of my gut.
I walk around with all of that lodged inside myself, so used to the feeling that I'm almost numb to it. Or is it that I need to keep it down so I can simply . . . live? And so I go about my life, living but holding — holding the weight, holding the tension, holding my breath.
Soon, I don't even realize how long I've been holding, how much I've been needing to release all that's been building up, until I'm in the presence of others who are holding it all too. In each other's eyes, in the things left unsaid in our conversations, in the squeezing of each other's arms, there is mutual understanding without explanation. There is comfort.
Recently, I was in a sanctuary full of women of color, some of us meeting for the first time, all of us just glad to be together, finally. It was meant to be a service, but it felt more like communion — each of us coming to the table, breaking off a piece of each other's burdens and placing it on our tongues to absorb.
We began by reading a liturgy, written by one of our own, and the lament began. We called out injustices, acts of violence, and the names of those who had died too soon, too many at the hands of those abusing their power. We read the words loudly, even as our voices shook with tears, as a protest that it wasn't right, it still isn't right, and God, please come make it right.
Then we took turns leading the group, reciting poems, singing hymns, praying. Our lament filled the room, spilling beyond the walls and echoing into creation. In crying out together, the rage and anguish that was coiled tight inside me began to unravel and flow freely out. I could let down my strength and crumble — not from the weight and tension I was holding but because I didn't have to hold it by myself, within myself, anymore. I could be weak. I could be held. I could exhale.
Lamenting was our way of declaring, "We haven't given up hope yet. This is how we hope. This is how we keep going. And we will keep going."
Without lament to give us breath again, we can drown in despair, overwhelmed by the brokenness we experience in and around us, anguish stuck in the depths of our being. And when we don't know how to release it, when we can't find our way through our grief, we need each other to lead the way — to offer us words when we don't have any, to give us space and presence, to cry first so we can follow with our own tears.
The psalmists understood this and wrote,
Out of the depths I cry to you, Lord;
Lord, hear my voice.
Let your ears be attentive
to my cry for mercy.
Psalm 130:1-2 (NIV)
And in Psalm 37, David wrote,
Hope in the Lord
and keep his way.
He will exalt you to inherit the land;
when the wicked are destroyed, you will see it.
Psalm 37:34 (NIV)
Today, we lament for the wickedness and evil that thrive and for the healing and justice that is yet to come. We beat our chests and cry aloud, and in this we hope: One day, the wicked will be gone, justice will prevail, and we will lament no more.
—
Perhaps nowhere in Scripture do we get as full a picture of the heights and depths of the human experience as in the Psalms. The outpourings of emotion never shy away from the darkest moments of life, and yet they also point toward the light — toward the God in whom we place our hope.
Inspired by Psalm 37, Voices of Lament: Reflections on Brokenness and Hope in a World Longing for Justice is a powerful collection of reflections from Christian women of color on themes of injustice, heartache, and deep suffering. Their essays, prayers, poems, and liturgies lay bare the experiences of the oppressed even as they draw us into deeper intimacy with God and a fuller understanding of each other.
Get your copy today (and pick up a copy for a friend as well). . . and leave a comment below for a chance to WIN one of 5 copies*!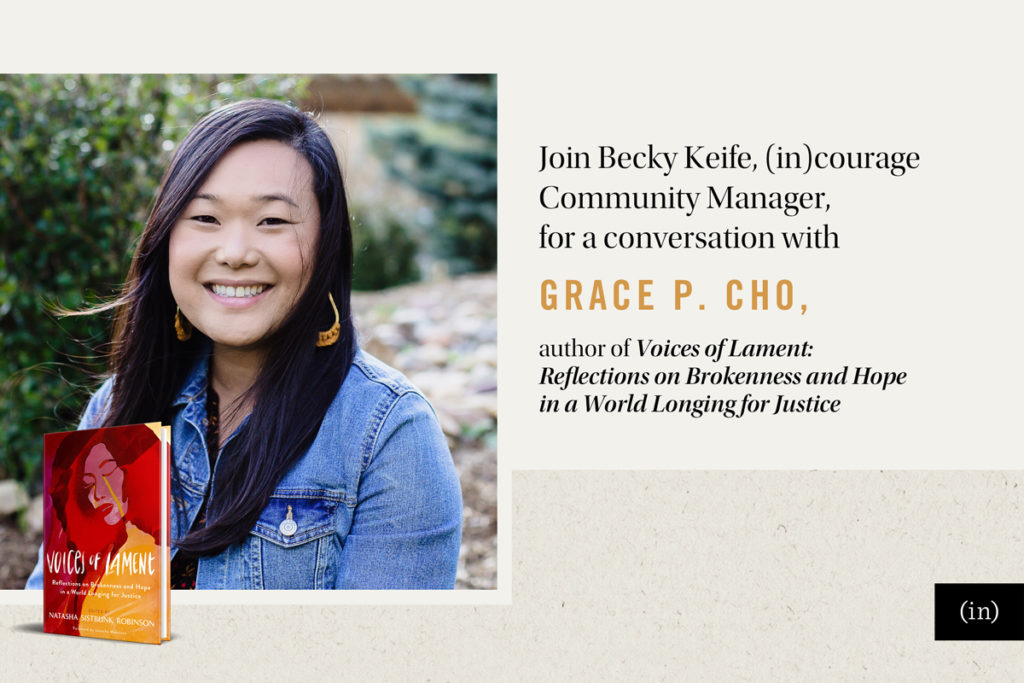 Then join Becky Keife for a conversation with author and #VoicesofLament contributor Grace P. Cho, tomorrow on Facebook and Instagram! We'll replay their conversation on the (in)courage podcast this weekend too. Don't miss it!
Listen to today's article at the player below or wherever you stream podcasts.
*Giveaway open until 8/19/22 at 11:59pm central to US addresses only. Winners will be notified via email. Please allow 4-6 weeks for delivery.
Leave a Comment