I can't remember a time when cooking wasn't of paramount importance to me.
My first game of pretend? Cooking show. Tiny plastic cups and saucers arranged on an imaginary stove, balls of play-doh mimicking the vegetables and curries and chapatis (unleavened, griddled flatbreads) that were commonplace on our dinner table.
I remember the first time I tasted homemade butter; my grandmother put a stainless steel bowl next to me, with a wink. No butter can ever come close to hers because a grandmother's love is the kind of seasoning you can't package.
The first recipe I ever made on my own: rock cakes. These Australian-style raisin scones satisfied both my sweet tooth and my desire to cook. I made them nigh on weekly, as my parents napped on weekend afternoons. They'd arise to hot tea and warm rock cakes.
The reason I know that was my first recipe is because the occasion was so momentous that I wrote it down. In fact, I started a recipe journal, with the rock cakes recipe written in careful cursive on the first page, using my favorite fountain pen. I still have that journal now, a battered old day planner with 1988 stamped on the corner in gold ink.
My mum inspired me to start a recipe journal. She started her own journal as a response to the early passing of her mother. My grandmother, Lucia, was a tremendous cook — the kind who could wing a cake recipe and steam it on the stove (she didn't have an oven). But like many of us, she didn't write any of those recipes down, and so, with her passing, all that culinary wisdom and history left too. Mum didn't want that happening to us, so she has dutifully kept a journal for as long as I can remember, tweaking traditional recipes and adding new ones.
While I don't dwell on the idea of God calling her home, one day He will. And when He does, my sisters and I will have that recipe journal to remember her when we make a meal. We'll be able to run our fingers over her handwriting, narrowing the gap between here and there. In making the recipes, we'll not only be able to bring a piece of her into our kitchens, we'll also be able to share her with our children, drawing their roots deep into the rich soil of their ancestry.
Time and distance are enemies to connection. They wear away at our memory and throw obstacles on the path to enriching relationships. If there's anything we've learned over the past two years, it's that we aren't meant to be alone. We all quickly scheduled Zoom and FaceTime dates with our family and friends, celebrating birthdays, holidays, and memorials over our screens.
Another way we can combat the fading of connection is via pen and paper. When we write things down, we give them value. We take the abstract and turn it into something tactile — something we can touch, relive, share. We freeze that moment in time, simultaneously locking in the past, with an expectation of a connection to the future. And one of the most powerful ways to connect is through food.
God understands that we forget. He prescribed the feasting and fasting of Passover for the Israelites as a means of remembering where they came from and whose they were. The seven days of unleavened bread reminded them of the suffering that preceded the victory of freedom, which they celebrated with the Passover feast.
And it shall serve as a sign to you to your hand, and as a reminder on your forehead . . . for with a powerful hand the Lord brought you out of Egypt.
Exodus 13:9 (NASB)
Later, Jesus would transform the Seder feast, simultaneously honoring the past Passover sacrifice, marking the present moment in His last supper, and forging a connection to the future when we would all break bread in memory of Him and His atoning sacrifice.
"This is my body, which is given for you. Do this in remembrance of me."
Luke 22:19 (ESV)
God has woven a remnant of the sacred into breaking bread together. When we stop, gather, eat, and share, it's a microcosm of the great feast that awaits us in eternity. And so, recording our family recipes is a powerful, defiant fist in the air against the winds of time and the threat of distance, which seek to steal our family connections. They invite us to spend time investing in those people we may take for granted, investigating the roots of your gran's stuffing or your uncle's barbecue ribs. In wanting to record my mum's recipes, I spent hours with her in the kitchen, forcing her to drop her "little bit" of turmeric onto my palm so I could measure it out and note it down. I learned more about her, my grandmother, and even my great-grandparents as we cooked together. It's one of my most precious memories.
Family recipes are distinct from the thousands of recipes you find online and in cookbooks — those are, of course, all special and useful. But a family recipe is precious because it's always enshrined in memory — memories of the person who made it, those who loved it (and hated it!), and times spent sharing it. It warps us to the past, whilst simultaneously making new memories in the present that will be enjoyed in the future. Family recipes are a magnificent mobius strip, not only interweaving time and space but also inviting us into the paradigm of the divine, where time as we know it will cease, where our space will be restored, and where the feast will never end.
And so, I've joined forces with my friends at DaySpring to bring you My Family Recipe Journal, a swoon-worthy heirloom for you to record your family's precious gems. It's 180 pages, divided into eight sections, each section's colour inspired by saris in my mum's closet. Blessings begin each section, to be read over your table or even before you cook (you know I'm a fan of that!), and Scripture adorns each recipe as a reminder that whether you are cooking through difficulty or through victory, God is with you.
I pray this book would bless you, your family, and all those you consider family this holiday season. May this simple act of recording your family recipes deepen your relationships now, and as you pass them down, extend your legacy of love, belonging, and good food to the next generation.
Point your kids in the right direction — when they're old they won't be lost.
Proverbs 22:6 (MSG)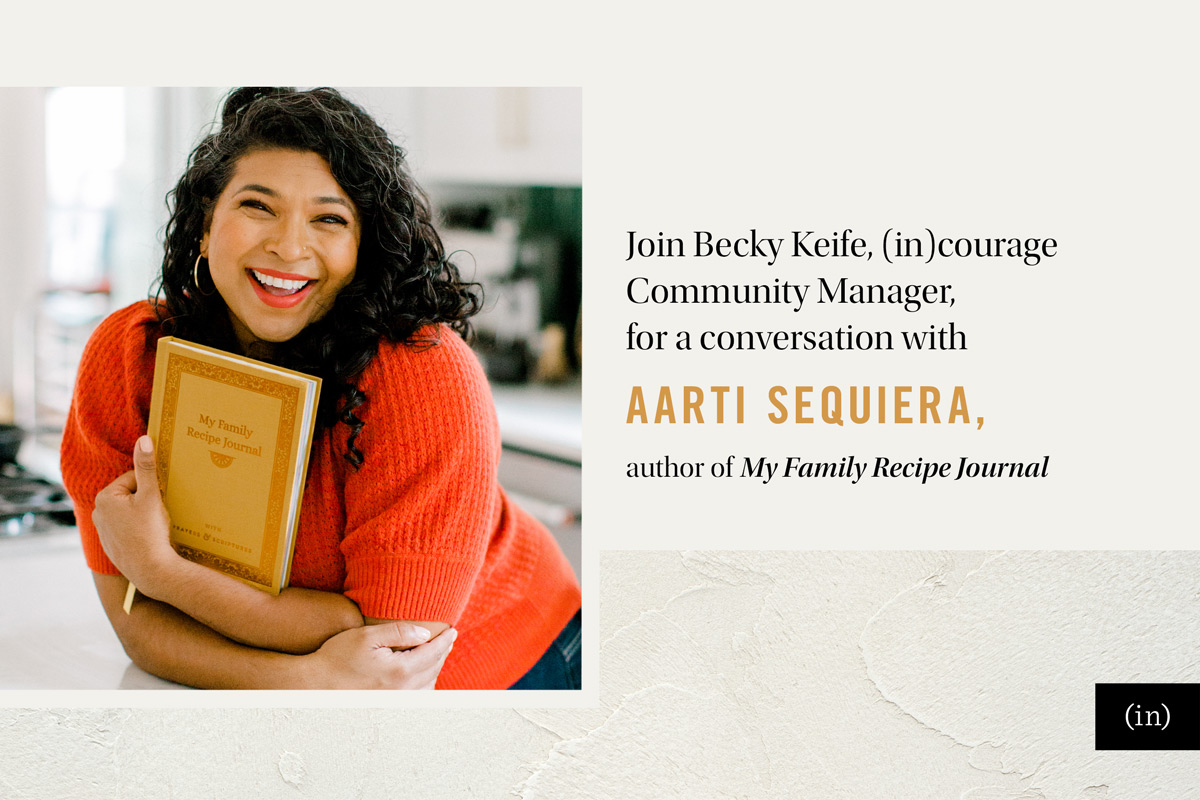 Just leave a comment telling us what cooking or family recipes mean to you.
And tune in tomorrow, Wednesday, November 24, at 11:00am central on Facebook as Aarti Sequeira and Becky Keife have a conversation about My Family Recipe Journal!
Leave a Comment